So, you've invested in an automatic gate for your home, prison, or industrial site. It's a superb choice for several reasons, but there are a few things to consider before pulling the trigger on a big project. If you plan carefully and pay attention to details, you can make gate installation a smooth and successful operation.
Ten Things to Consider When Installing an Automatic Gate
Know Your "Why" for Getting a Gate
This is not a quick decision, not at all when you recall how much premium gate systems cost. Before you make a purchase, make sure you know precisely why you want to do it. Is it to secure your premises? Do you want to add curb appeal to your home?
Establish a Project Budget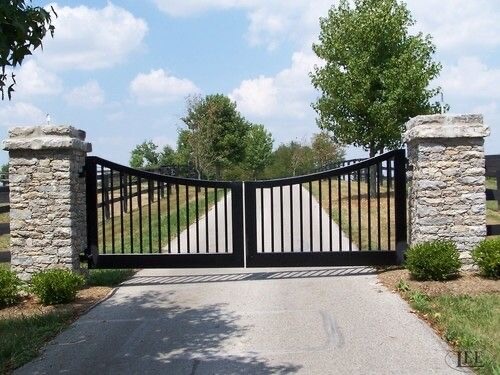 This is another pearl of wisdom that applies to any home renovation task. Whether you want to buy a new roof or install a gate system, it's so imperative to set a budget range and maintain it.
Review all Available Products
You have plenty of gate options, including many accessory items like gate openers, surveillance cameras, access control systems, and more.
Decide Where You Want to Put Your Gate
This might seem too obvious, but you'll have to know exactly where you want your gate. Of course, we can help you measure and draft a plan before we install your gate, but you must have a firm concept of the expected boundaries.
Research Unique Designs
There are as many gate designs as there are home styles nowadays. If you need help brainstorming the right design for your home, check out this gallery of our selected work to see some of the beautiful gates we've installed.
Contact a Good Installation Crew
You'll want to research and contact installation crews before settling on anything. Ask your gate installer for references to their previous work, so that you can verify their competence and expertise.
Compare Gate Brands
We have several gate brands listed on our website from manufacturers like Viking, Cellgate, DoorKing, and Linear. They each specialize in different systems and styles. We recommend reviewing everything to discover all of your gate and peripheral options.
Select a Gate
Then you'll have to make a selection. Again, don't hesitate to talk with one of our representatives to ask all the pertinent questions before you finalize your choice.
Install Your Gate
Finally, take the plunge and let Sarasota Gate & Access install your brand-new gate system!
Don't Forget About Upkeep
We also offer routine and emergency maintenance services because expensive equipment won't run well otherwise. You can learn more about this topic by reviewing our previous post on how to maintain your automatic gate.

Sarasota Gate & Access is at your service for all installation and maintenance needs for residential, commercial, and high-security gate systems. You can contact us anytime to learn more about us at 941-349-4455.