Call Us Today To Schedule Service
Sarasota Gate & Access provides expert maintenance and service for several premium gate brands, including FAAC International products. This means that you can depend on our experienced crew to perform any kind of installation, repair, and emergency maintenance on that company's gate products. We do this for a wide variety of residential and commercial customers. 
FAAC International 
FAAC International has been in business for about 50 years, specializing in automatic gates, barriers, automation system accessories, automatic doors, and more. Their lucrative security apparatuses are popular for securing residential properties in particular. 
One of their excellent gate systems is the S418 Electromechanical Swing Gate Operator. It has a sleek and flexible design, which comes with a new multi-position bracket that doesn't require welding or extensive fabrication. It also contains built-in open and closing mechanical stops. You never need to worry about it losing power either because it comes with a built-in backup battery. 
Then there's FAAC International's 390 Electromechanical Swing Gate Operator (with an articulated arm). It's easy to install, doesn't require external locks, comes with a built-in backup battery, and the standard kit has a competitive price tag of $2,846. 
They have several other gate operators that utilize many forms of technology, including hydraulic swing gates. All in all, you have plenty of options with this gate manufacturer. 
Sarasota Gate & Access: The Best Service & Maintenance for Any Gate System 
Whether you need us to fix some unexpected difficulties with your FAAC system, or need help with any other gate hardware, we're always available. This includes emergency service (24-7) as well. We know how important the security of your home or business is to you, and that's why we strongly encourage you to utilize us if you experience any type of emergency. We routinely do all of the following for our customers in Sarasota and across the country: 
Design & Installation

 

Gate Repair

 

Access Controls

 

Government & High-Security Systems

 

. . . and a whole lot more!

 
Sarasota Gate & Access is at your service for virtually any type of troubleshooting on several gate brands such as FAAC International, Viking, Linear, and Apollo. There are many options in the home security market, which is why we train and certify our technicians in all the latest equipment and technological trends. If you'd like to schedule service with us for your FAAC International gate system or have any questions, call at any time by dialing 941-349-4455.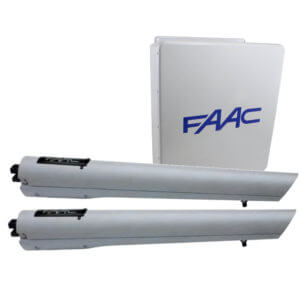 "John is always such a pleasure to work with. He is more than willing to help whenever I have questions or concerns about our front gates. Service is quick, easy, and leaves me with one less thing to worry about!"
Leslie Green - Sarasota, Florida