For millions of Americans, the necessity to have peace of mind with the location we call home is a top priority. Sometimes, a deadbolt lock just isn't enough to reassure us, and if that's the case for you, consider living behind the walls of a gated community. While you might be under the impression that these are only meant for the famous or those with a disposable income, many people from all levels of status and income call gated communities home.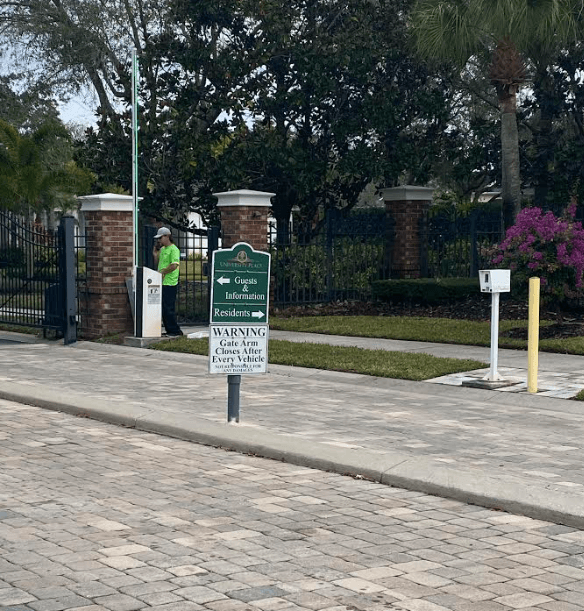 Peace of Mind
One of the biggest advantages of living behind the walls of a gated community is the level of security that comes with it. Gated communities come with a variety of different levels of security, each one having its own advantages.
Guarded
Some communities have guards on staff that monitor the gates to ensure that no one gets in without express permission from the residents who call the area home. Usually, the guard will have direct access to the residents if someone attempts to enter.
Electronic Keycode
These gates are protected by electronic access codes that are given to the residents of the community and no one else. If the community you live in doesn't have a manned guard post, this is the next best option. Others might be protected via a fob or openers given to residents for use in their vehicles. These are usually limited to one per household, and the only other places that have access are couriers such as newspaper delivery drivers.
Privacy
Having your privacy intact and not being intruded upon by unwelcomed guests is one of the most notable advantages of living in a gated community. Salesmen and solicitors are kept at bay, and you've ensured a quiet relaxing life. Many gated communities have very strict rules when it comes to visitors as well.
Advantages and Amenities
Another reason many people enjoy living in gated communities is the fact that there are usually amenities such as gyms, pools, and recreation centers that provide relaxing and enjoyable activities free of charge.
Sarasota Gate & Access
If you've ever wanted an added layer of protection for your home, office, or commercial building, the experts at Sarasota Gate & Access have years of experience in providing security to a multitude of locations, and we're one of the few companies that have a 24/7 emergency service because we understand that life can be unpredictable at times. For more information, visit us online or give us a call at 941-349-4455.