Automatic gates are a wonderful way to protect your entire family, especially children and pets. However, we offer some cautionary advice for keeping the little ones safe around automatic equipment. Since these gates have electrical components and lots of heavy moving parts, make sure you know how they work and follow these tips to safeguard everyone from accidents.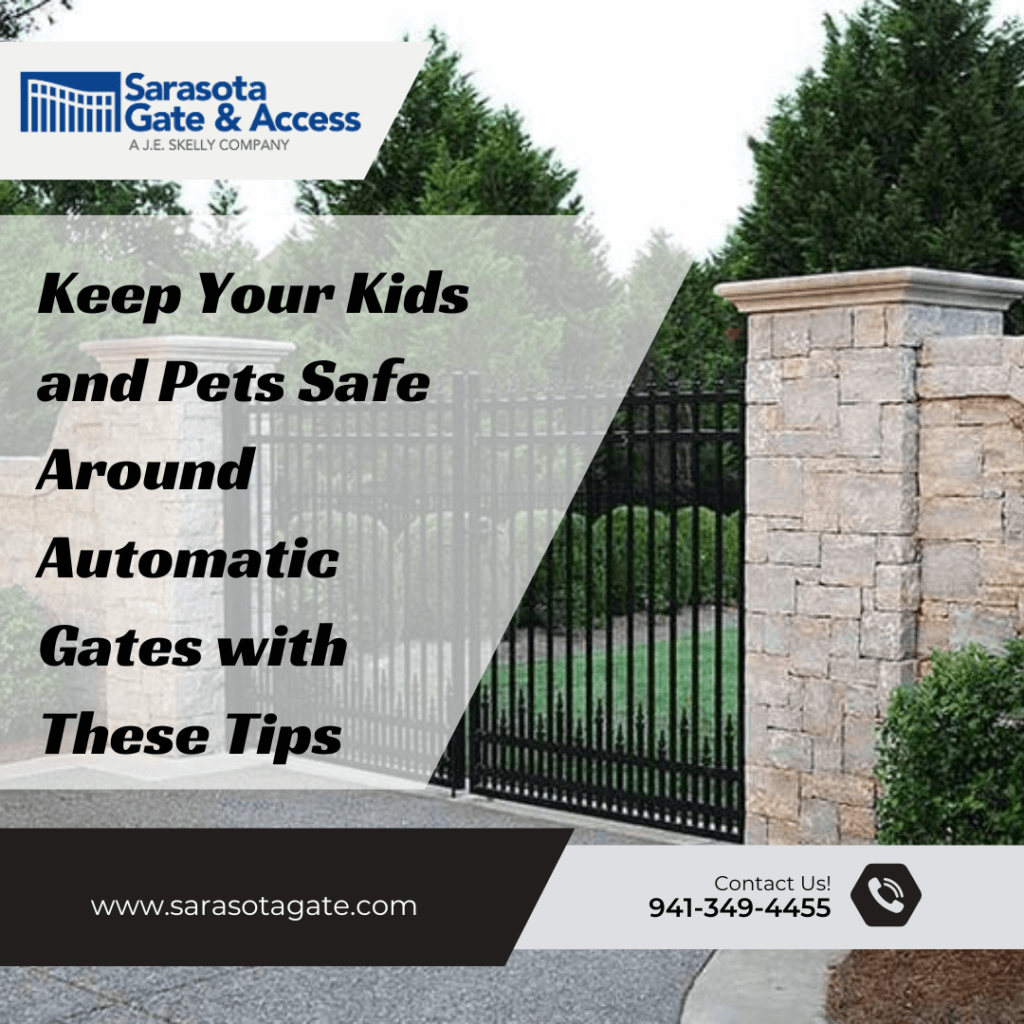 Automatic Gate Risks
The two major concerns with automatic gates involve the potential for collisions and getting stuck. Many gate systems function like your garage door, which means they have safety sensors that halt everything, but, as you know, these are not 100% childproof. It's still possible for a child or disabled person to run into trouble with an automatic gate if they can't move away from it quickly enough.
It's also possible for someone to get clothing stuck in one of the gate mechanisms. This is most common with short sliding gates, and it can cause serious injury. Finally, without proper supervision, you can get crushed by a gate. This might happen when the underside of a swing date traps someone between it and the driveway concrete.
Tips to Keep Your Kids & Pets Safe
When gates are operating, it's best for children, adults, and pets to remain away from them until they open or close all the way.
During the installation phase, we can work with you to devise ways to limit the possibility for crushing, collision, and other dangers.
We can also put a buzzer or alarm on your gate system to make noise while operating. This is just like what trucks have when moving in reverse.
Finally, consider installing an emergency-stop button/switch that can halt everything if you encounter trouble.
Don't forget that when you purchase and install your gate to train children (when they're old enough) to understand the mechanical aspects. This will help them see why it's unwise to tamper with electronic equipment.
Of course, if any of this seems unclear or you would like to learn more, you should always consult the pros at Sarasota Gate & Access. You can reach us 24/7 for gate service and support.

Your safety and customer satisfaction are our two priorities whenever you purchase installation service from us. You can also reach our representatives by phone with questions or concerns at 941-349-4455.