Modern gate technology gives residential and commercial property owners so many new and lucrative security solutions. In just the last few decades, we've seen so much improvement in gate systems, surveillance, and controlled entry technology.
We'd like to give you a better idea of the various wireless access control mechanisms. That way you can determine which approach works best for your home or business.
Wireless Access Control Considerations
Before getting into the various options you have access control, you should ask yourself a few basic questions.
How large is the property and how many access points are there?
What is your budget for this kind of endeavor? Don't forget that it costs something to maintain security systems.
What functions do you find most appealing? Are you looking for something manual, cloud-based support, and/or smartphone accessibility?
Do you need detailed records of who enters? What about surveillance for business security purposes?
We install gate systems for homes, businesses, and even prisons. The latter requires many elaborate security mechanisms to ensure low, medium, or maximum security. You may not need all of that if you're on a tight budget, but want to secure your residence.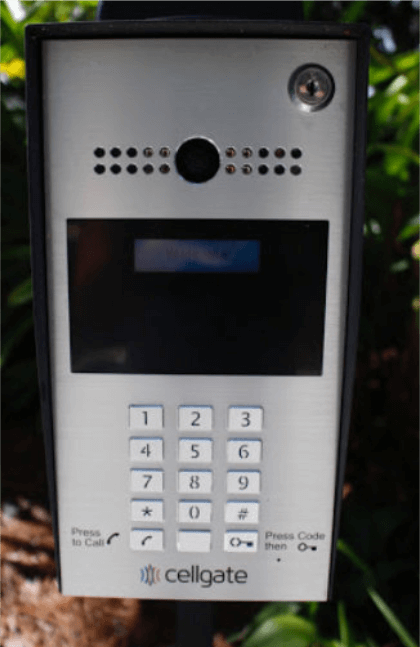 Wi-Fi for Small Homes
We find that emerging Wi-Fi solutions work tremendously for small homes. Provided you have a backup battery and good IT support, Wi-Fi is a cost-effective way to manage gates and doors. Plus, it utilizes web-based portals that you can administer and troubleshoot directly from your smartphone.
Advanced Options for Business Needs
If, on the other hand, you operate a facility with expensive merchandise or hazardous materials, you may need tighter security. This is where it's worth looking into the keypad-controlled entry, biometric scanners, card/fob readers, and motion sensors. One of the brands we install frequently, Cellgate, provides these kinds of features, particularly for businesses seeking top-notch surveillance.
All the various access controls like keypads, telephone entry, intercoms, internet gateways, scheduled timers, and remote controls give you the chance to better manage what happens in and around your property. Again, it doesn't matter if you're running a detention center, liquor store, private high school, or a beautiful home here in Sarasota, there are plenty of sophisticated options.

Sarasota Gate & Access specializes in the installation, maintenance, and repair services for all gate systems. One of our primary competencies is wireless access control. Feel free to review the other materials on our website to learn more. If you have questions or want help selecting a new wireless access control system, call us at (941) 349-4455.